Rike Roofing, as many other companies have, started out with one gentleman operating as a coating installer from his mobile office (his pickup truck), traveling the mountainous regions of North Carolina. James Walter Rike, aka "Granddaddy Rike", started Rike Roofing in 1936 and made sure he created a business model that would stand the test of time.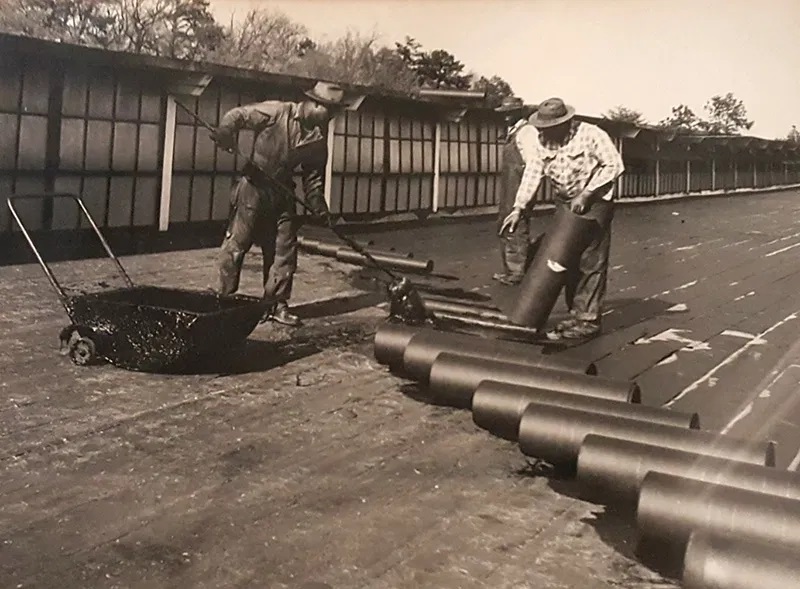 Once manufacturing roofing and coating materials and installing old-style built-up roof systems to now the bustling business it is today, Rike Roofing has outgrown its original iconic, historical headquarters located outside of Downtown Charlotte.
It is tough to let go of our humble beginnings as this constant reminder of our past keeps us focused on our founding philosophy of offering the best possible service, solutions, quality and value as we know this is what has allowed Rike Roofing to endure the ups and downs of the past.
Rike Roofing has been led by many great people starting with our founder James Walter Rike. When Granddaddy Rike decided to pass on the company he looked to his son, James Franklin "Bud" Rike. Bud, many years later looked to his daughter Carol Anne Leonard and son-in-law Frank Leonard. Carol and Frank, after many successful years of leading the business, chose Julie and Allen Hughes to take the reins.
Thank you to all the strong leaders of our past and to those whom are to come.
A Multi-Million-Dollar Company
Rike Roofing, today, is a multi-million-dollar company that is capable of installing many types of roof systems and coatings. A large part of our business still focuses on the repair and maintenance of many of the older, historic buildings across the Carolinas. While Rike is completing installations all over the Carolinas and surrounding areas we never forget our humble beginnings.